Madeline Cameron's Place (With my own toe and foot prints, December 1999)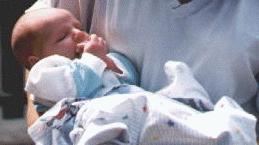 When I was very young: September, 1997
2007: ENERGETIC SPRINGTIME IN N.S.

AUGUST 2006 IN NOVA SCOTIA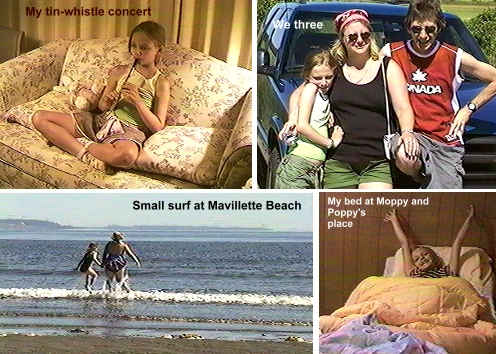 I'M AN IRISH DANCER!!!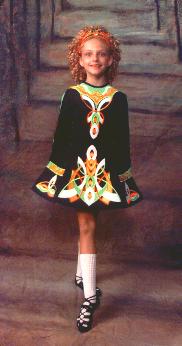 I belong to a group that teaches Irish dancing, and am learning all about it. I take a lot of lessons, and also enter many competitions, which keeps me very busy and in good shape. There I am on the left in my beautiful competition costume, Autumn 2005. On the right, my dance studio portrait taken the year before.
NOVEMBER IN NOVA SCOTIA: 2005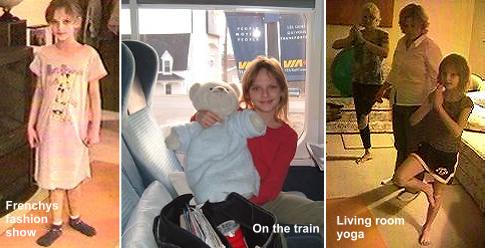 SUMMER 2004 IN NOVA SCOTIA: A MONTAGE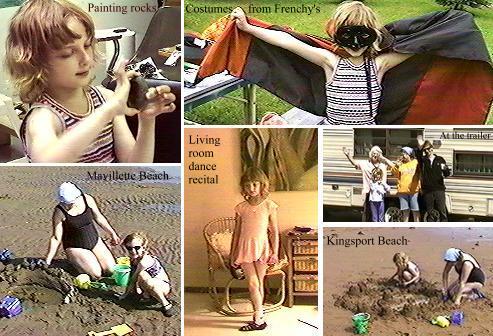 NOVA SCOTIA AGAIN: SUMMER 2003

That's Dad burying me with lots of sand as I am lying down at Mavillette Beach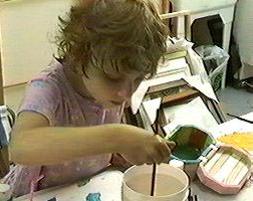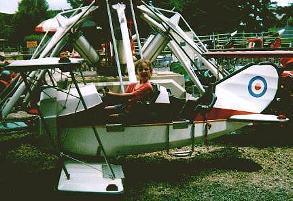 Here I am, left, in Moppie's art studio, colouring boxes with acrylic paint. And on the right, going for an airplane ride at Upper Clements amusement park.
SUMMER VACATION 2002 IN NOVA SCOTIA

Left, a picnic by the Bay of Fundy with Moppy, Dad and Mom; on the right, I'm picking ripe
blackberries in Moppy and Poppy's backyard.

On the left, Mom and I clown it up at the zoo; right, Dad and I run through the surf at Mavillette Beach.
CHRISTMASTIME 2001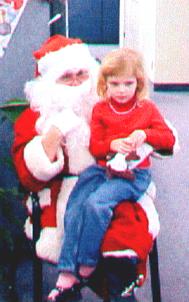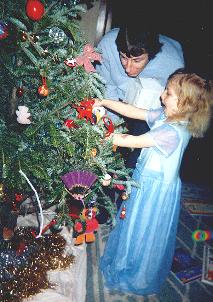 I went to a Christmas party where Mom works, and got to sit on Santa's knee, left. And on the right, here are me and Dad looking for presents on our tree at home on Christmas morning.










DIFFERENT AUTUMN OUTFITS: 2001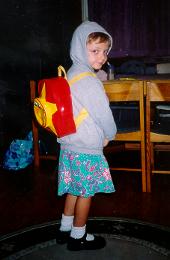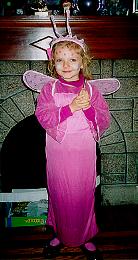 In September, I started school for the first time. Here I am on the left
in my school outfit, about to leave home for junior kindergarten.
For Hallowe'en, I dressed up quite differently (right),
going out for tricks or treats in my fairy costume.
~SUMMERTIME 2001~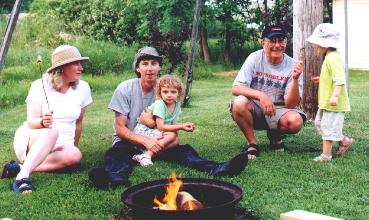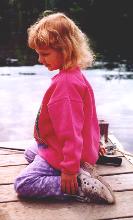 "The Gang" around a campfire at a cottage we rented, with Aunt Pat on the left, then Dad and me in the middle, and Uncle Dave and cousin Margaret on the right. Then there's a picture of me on the wharf in the same park.
~SUMMERTIME 2000~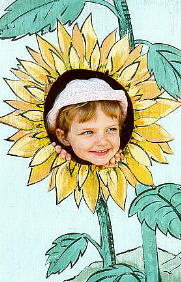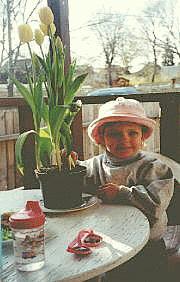 I pretend I'm a sunflower after starting summer with a pot of tulips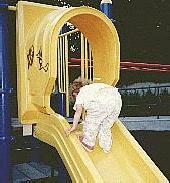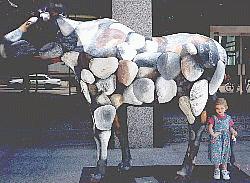 Here I am on the left going UP a slide for the first time; and there's little me beside an arty, life-size millennium moose
~ My Millennium Portrait: January 2000 ~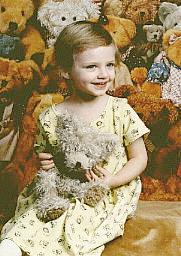 CHRISTMASTIME 1999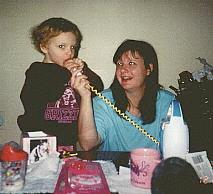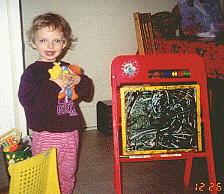 Me and Mom, left, have fun with a tape recorder I got as one of my Christmas presents. And there I am on the right with some dollies, and a finished fingerpainting on my new easel





MY SECOND BIRTHDAY!
Aug. 21, 1999, Dad and me and my birthday cake, left; me blowing up a storm, right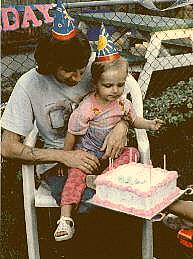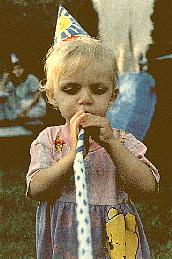 ~SUMMERTIME 1999~
Watering the grass in our backyard, where it got quite hot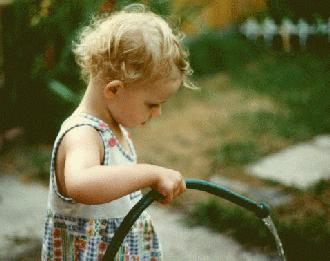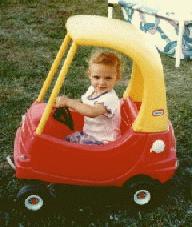 My own car
to drive while visiting
Moppy and Poppy in Nova Scotia
Learning how to fly a kite with Poppy and with Dad at the seashore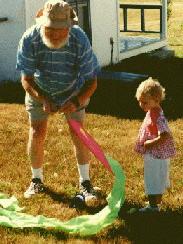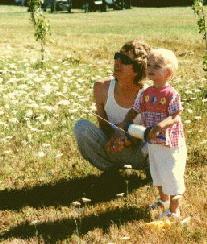 HAPPY SPRINGTIME
April 1999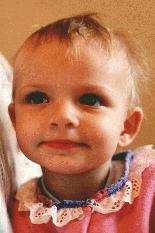 CHRISTMAS DAY 1998
Lots of presents for me and Dad to open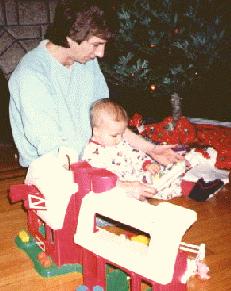 ~SUMMERTIME 1998~
Mom and me on the ferry to Nova Scotia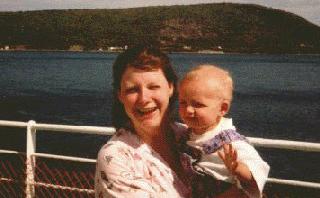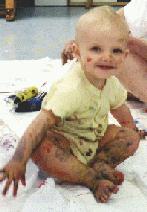 Finger-painting
in Moppy's studio
Dad and Mom and me on Moppy's front steps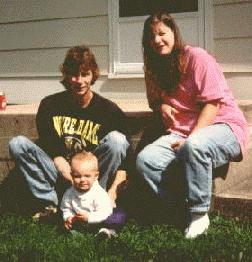 Playing with Moppy in her backyard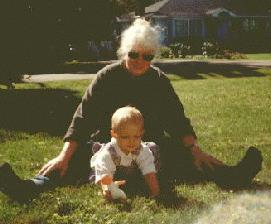 Me and Poppy sticking fridge magnets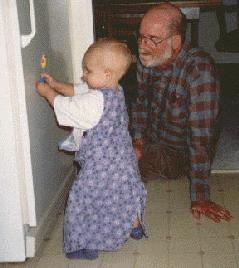 _________________My Art Gallery__________________

THAT'S ME ON THE LEFT, holding up a rainbow. I drew this picture on Mom's office message board during a 2002 Christmas-time visit there. Centre is my self-portrait, 2002 and on the right, a busy abstract I did at school in 2001 (the actual painting is really, really big).
---
Back to home page | Visit Margaret's Place | Visit Tara's Place
Updated May 30, 2008
---