Margaret Kelk's Place
(With my own three-year-old handprints)
WHEN I WAS very young: September, 1997.
THE SUMMER OF 2008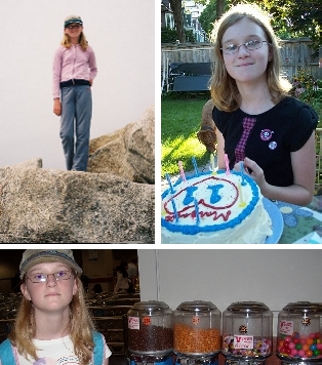 On the rocks, top left, at Margaretsville, N.S.; my 11th birthday party
near home, top right; at Halifax airport, above, with my favorite coin machines.
SUMMER 2007 IN MIDDLETON, N.S.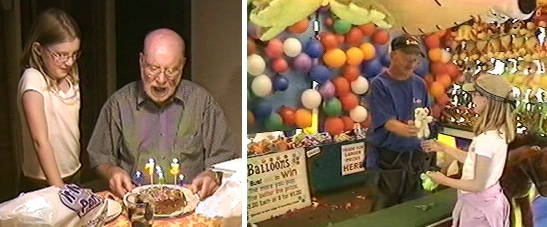 We had a party, left, for Poppy's 73rd birthday, and there I am watching him blow out the candles on his cake. And for the first time, I went to the Annapolis County fair in nearby Lawrencetown, where I won prizes at nearly every booth, like the one on the right.
NOVA SCOTIA: SUMMER 2006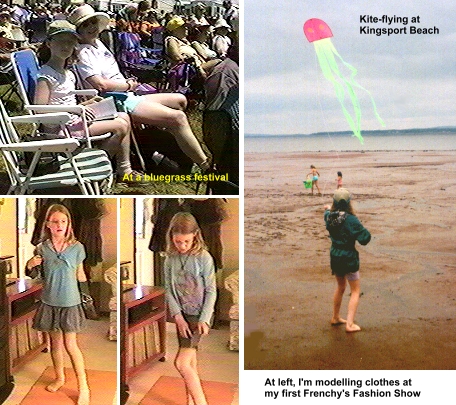 SUMMER 2005 IN NOVA SCOTIA
THE SUMMER OF 2004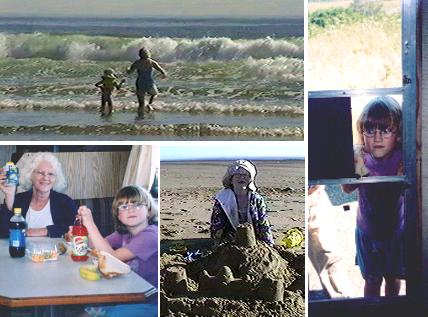 Another visit to Moppy and Poppy in Nova Scotia. At top, there are Mom and me jumping in the breakers at Mavillette Beach. There's me on the right, looking through a little sliding window in the door of Moppy's trailer near the beach. Lower left, Moppy and I having lunch inside the trailer. And the lower middle picture is of me with the sand castle I built on the beach.
WINTERTIME FUN IN 2003-2004
First, I got together with Santa again at the mall. Then I went skating with Dad on the rink he made in our yard.
THE SUMMER OF 2003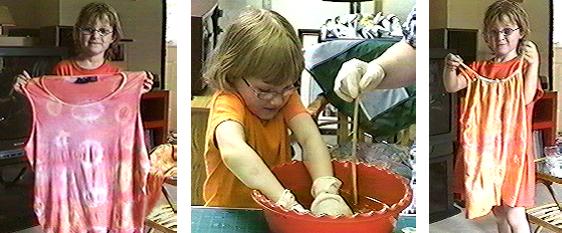 Mom and I visited Moppy and Poppy in Nova Scotia again, but it rained the whole time so we didn't get to any beaches. Instead, we had indoor fun, and I learned how to do tie-dying in Moppy's studio. There's me in the middle mixing up the tie-dye recipe, and there are the results, left and right.

Well, it kept on raining, so I went to the playhouse at the local mall where there was lots to do
Earlier in the year, I lost my first baby tooth!!!!!
CHRISTMASTIME 2002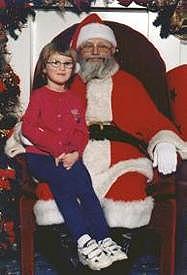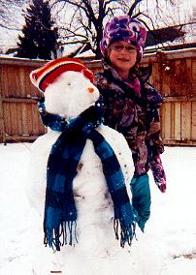 A visit with Santa at a nearby mall; I made this big snowman in our yard
THE SUMMER OF 2002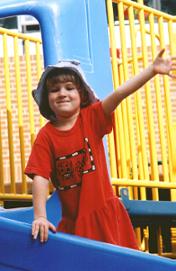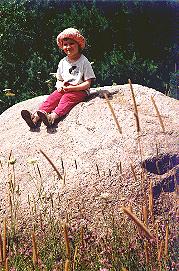 Here I am on the left on one of the slides at my school, and on the right,
sitting on a big rock at the beach where we went camping.
IN THE NEWS FOR HALLOWE'EN!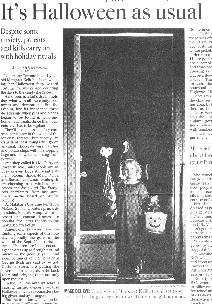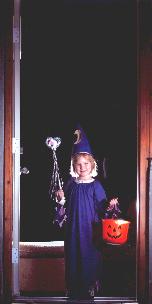 (Photos by Richard Lautens)
For Hallowe'en 2001, a picture of me in my fairy wizard costume and a writeup about me
and Mom appeared in the local newspaper, left. And on the right, here's what I looked like
as I went trick-or-treating around our neighborhood.
THE SUMMER OF 2001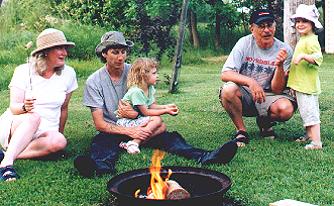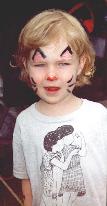 Left, "The Gang" around a campfire at a cottage we rented. Mom's on the left, Uncle Larry and
cousin Maddie in the middle, and then there are Dad and me. And I also went to a summer
festival in our community where I ended up looking like a cat (right).
EASTER 2001: A VISIT TO NOVA SCOTIA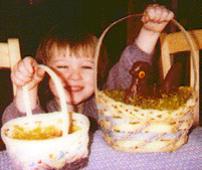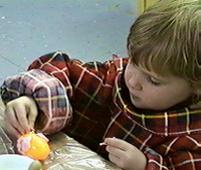 There's me at Poppy's new computer; with my Easter morning goodies; in Moppy's studio decorating an egg
THE SUMMER OF 2000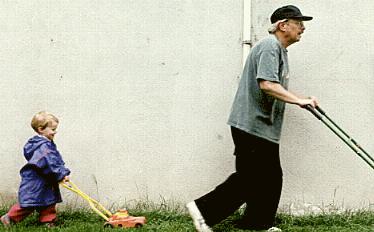 It takes two, me and Dad, to keep our lawn properly mowed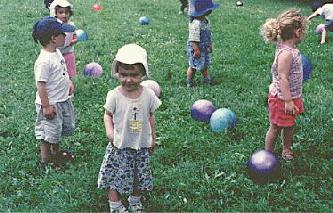 Here I am with my pre-school pals, wondering what everyone else is looking at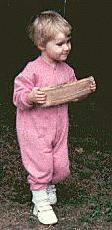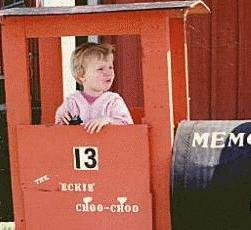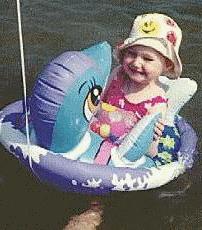 My first camping trip: getting wood for the campfire; driving a train at the park; riding my big fish in the lake!
CHRISTMASTIME 1999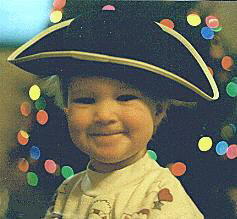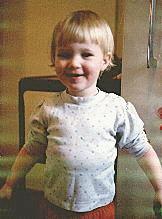 A neat hat for Christmas Day after waiting for Santa
NOW WE ARE 2!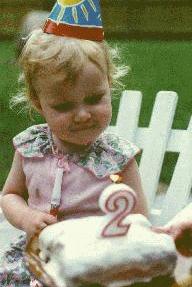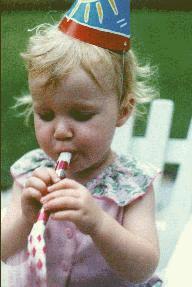 My second birthday party, Sept. 6, 1999
THE SUMMER OF 1999