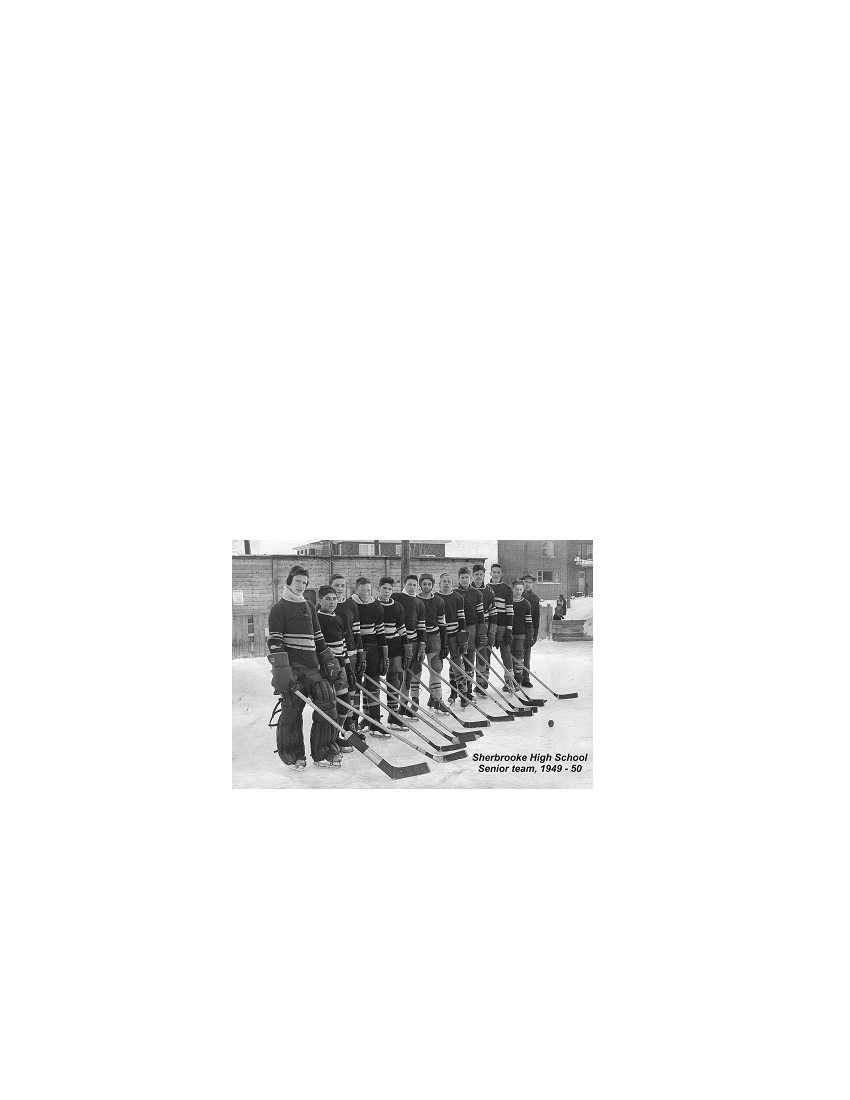 I used to skate

a lot during the winter when I was a little kid in Montreal West. My dad started me out on
"cheesecutters" -- those little double-bladed skates that strapped onto your boots, and I would go out to the local
outdoor rink with the other little kids. Later, I got a pair of normal tube skates, and my ankles eventually got strong
enough to use them properly. I got to be a pretty good skater, though I never played any hockey, except for the
"road" variety," until I was much older. That's because there was no minor hockey organizations then and no
We moved from Montreal to Sherbrooke, Quebec when I was 13 or so, and I still wasn't playing real hockey in the
wintertime, just skating a lot. Except at Howardene Pond.
I went to Sherbrooke High School, overlooking a park called Howardene which contained a large pond across the
street from the school. In winter the pond froze over, often before Christmas, and became a neighbourhood rink.
That's where I began to play some of my first hockey; friendly, cheery, unorganized games which one joined and left
at will. There was no bodychecking, no lifting of the puck, not much equipment, except for hockey sticks and skates.
People brought their own shovels and ploughs to clear off snow.
For several winters,

when the sky was clear, some of my pals and I would play on the pond at night, under the
bright, pale blue light of the moon. We didn't played real games, just raced up and down our makeshift, snow-banked
rink, stickhandling a puck back and forth among us, seeing who could hang onto the puck the longest. When the
weather was really cold, the ice on our rink would shrink and large cracks would appear. The pond was fed by a
spring near the shore which almost never froze, and we would bring tin buckets and fill them with water from the
spring. We would tamp snow into the ice cracks, then pour water over them from the buckets. It froze pretty quickly,
and with a more or less smooth ice surface again, we would go back to our "game."
We had rest periods whenever clouds drifted over the moon and it was too dark to see the puck.
I finally got into real hockey in my third year at high school, trying out for the school's senior team. I began as a
forward because I thought I could skate and stickhandle well, thanks to my Howardene experience. But
bodychecking and shooting the puck were something new for me, and there were other players who could skate,
stickhandle, bodycheck and shoot much better than me. No one, though, seemed to want to be a goalie, and I had
enjoyed that part of the game on Howardene pond. So I volunteered for that job. It turned out I was a better goalie
than a forward and I made the team that year and the next.
We played all our hockey on outdoor rinks with natural ice, which was the only way it was played by high schools in
our area then. Dressing rooms were heated by wood-burning stoves, and were sometimes just temporary wooden
shacks, like the one at our home rink. Cold weather was particularly hard on goalies like me, since we didn't move
around a lot to keep warm. I remember suffering frozen feet almost every game I played. Someone had told me (I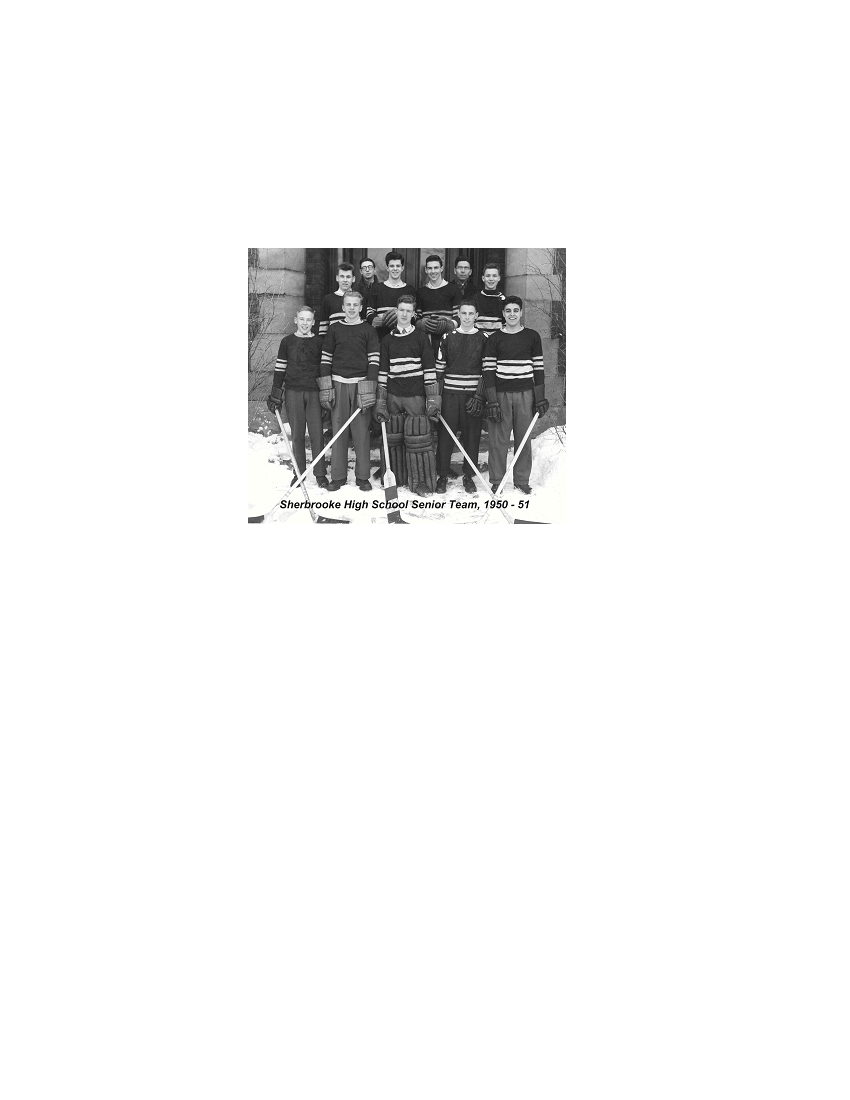 forget who) to wear a pair of my mother's nylon stockings (in the days when such things existed) next to my skin
under heavy woollen stocks. I did that for my entire high school hockey career. Still got frozen feet!!!!
In 1950-51,

my final season at Sherbrooke High School, we had a pretty good senior hockey team. We played
eight games, and won five of them. The team scored a total of 56 goals, and I allowed a total of 28. We came close
to winning a Quebec provincial championship, losing a semi-final game to Drummondville by a score of 10-7. Our
coach was our school's French teacher.
I turned in my only shutout of my entire hockey career that season -- a 2-0 exhibition win over St. Patrick's High
School, Sherbrooke's English-speaking Catholic school. St. Pat's was a local hockey powerhouse, coached by
fast-skating priests whose black robes swirled around them as they swooped up and down the ice at practices. We
had already lost 6-3 to St. Pat's' earlier in the season, and the return match looked like an uphill fight. To make
matters worse, for some reason, probably illness, we were only able to dress a total of five players, one short of a full
team. So rather than calling off the game, St. Pat's offered to lend us one of theirs, a forward by the name of Bruce
Cline. We couldn't believe our luck. He was one of the best high school forwards in the area, so good that he later
played a few seasons for the New York Rangers of the NHL. With Bruce storming the St.Pat's net, and me playing an
airtight game, we got the win.
From high school

I went to Bishop's University in nearby Lennoxville in the fall of 1951, and tried out for
the varsity hockey team. I was a non-resident student, meaning I commuted every day for classes from my home in
Sherbrooke to Lennoxville by public bus. The university didn't have an arena of its own, and most of the team
travelled back and forth from Lennoxville to the Sherbrooke arena for practices and games. I got to and from the
arena the same way I got to classes -- by city bus from my home. That didn't bother me a bit. For the first time, I was
playing indoors on artificial ice.
But getting on and off the bus was sometimes a bit awkward. I had to supply own goalie equipment, which I
borrowed from a Sherbrooke Boy Scout troop I once belonged to, and which no longer had a hockey team of its own.
I would strap the goalie pads together, and push the stick down the middle. Skates were slotted down one end of the
stick. The rest of the equipment went into a duffel bag. It all made for two very large and bulky packages to take on a
But in the end, it all paid off. I beat out several other goal-tending contenders to become the team's sub-goaler, that
is, the backup for the regular goalie, a veteran of several seasons. Quite an accomplishment, I was told, for a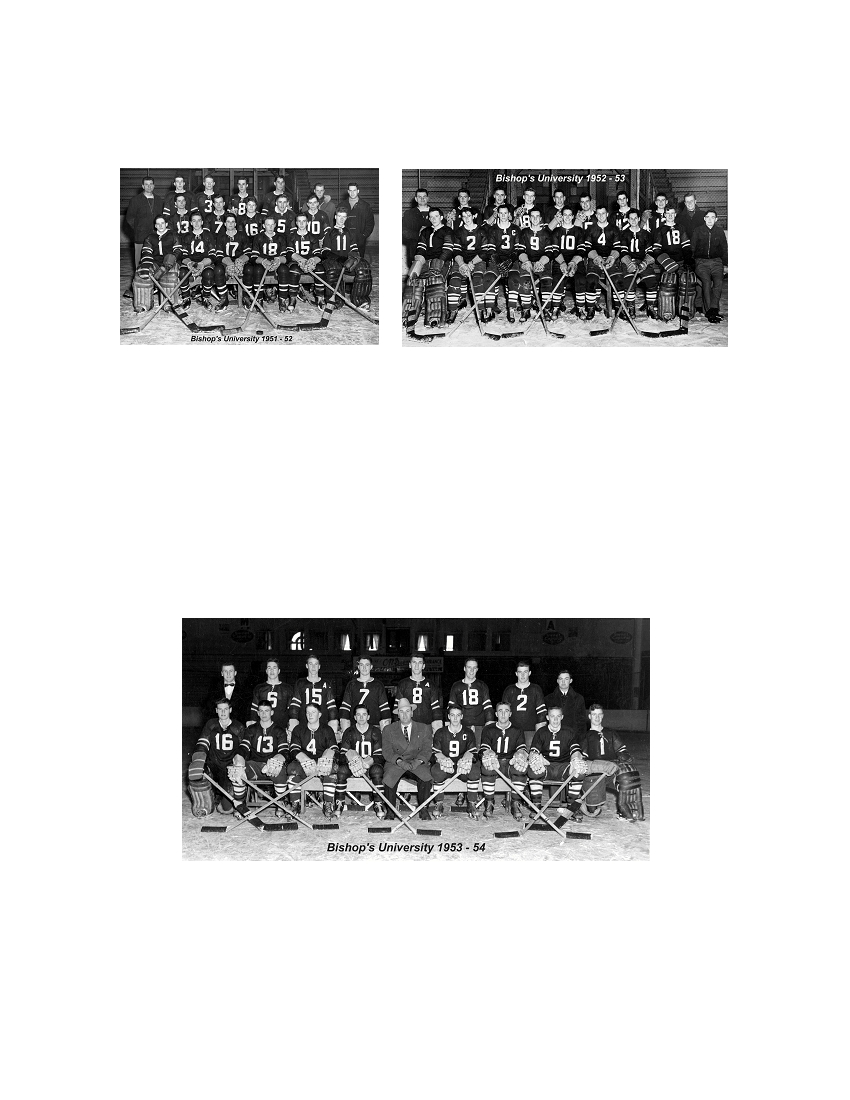 I only got to play one exhibition game that season, which we lost, but that didn't matter much to me because I was
part of the team and took part in all the practices.
The next year, I started out as the sub-goaler again, beaten out by a newcomer from a private school in Ontario. But
he didn't last long. It turned out he was a poor student and had to quit hockey to concentrate on his class work. He
must have dropped out of university after that -- I never saw him again. I won the No. 1 goaler's spot and inherited
the team's brand-new goaler equipment, which travelled back and forth to practices and games with the team. No
more city bus trips with bulky pads and duffel bag. Then I moved into university residence and kept the goaler's job
for the next two hockey seasons, right up until I graduated in 1955.
Bishop's didn't

have a very good hockey team. The university was small, with only about 400 students then,
and competed against much larger institutions, such as Queen's and Royal Military College, both in Kingston,
Carleton in Ottawa, Loyola (now Concordia) and McGill, both in Montreal. We also played in Sherbrooke against
teams in the area's Junior B league. We won a few games, but mostly we lost, sometimes by such scores as 14-2 and
But a high point in my last season was a 10-2 victory over the University of Sherbrooke. That made us the first
holders of the new Skinner-Nadeau Trophy, set up for a yearly game between Bishop's and the U of S. The
Sherbrooke institution had just come into existence then, and didn't have many students or much of a hockey
program then. In later years, it grew to be a major Quebec university, and a hockey powerhouse.
We also played exhibition games in nearby Vermont and New Hampshire, some of them against big universities,
which, not surprisingly, always beat us.
For a goaler like me, though, losing wasn't always a bad thing. Because we were so often overmatched, I stopped a
lot of shots in most of our games. Sometimes my saves ran into the 40s and 50s, and at least once, I stopped more
than 60 shots in a losing cause. As a result, I was sometimes seen as a game star, even when we lost.
That happened one night in Berlin, New Hampshire where we played an exhibition game against the local town
team. It turned out that Berlin was hockey-mad. The arena was packed, the crowd was noisy. Of course, we lost -- by
a score of 6-2, or thereabouts, and I stopped a lot of shots. After the game, the home team threw a reception for us,
and townspeople there kept coming up to me, shaking my hand, and telling me how great I had played!
All my goal-tending

hockey was played in the days before goalers wore masks, and only a few players
wore helmets. In those six seasons, I got lots of minor nicks and scrapes, but was really injured only twice. The first
occurred during a university game in Sherbrooke when I lost a long, high shot from outside the blue line in the
rather dim lights of the old arena. The puck caught me on the right side my head, just beside the eye, and opened up
a large cut. There was lots of blood everywhere, the game was stopped, and I was carted off to the local hospital,
where many stitches were required to close the gash. The scar is still there.
My other hockey injury came during a practice in my final year at Bishop's. One of our hot-shot forwards leaned into
the puck about 12 feet in front of me and fired a rising shot that hit me in the throat just below my chin. It knocked
me out for a while. I couldn't swallow or talk properly for several days after that, but there were no lasting effects,
except for a bloody scar on the underside of my chin where the puck had sliced off a chunk after bouncing off my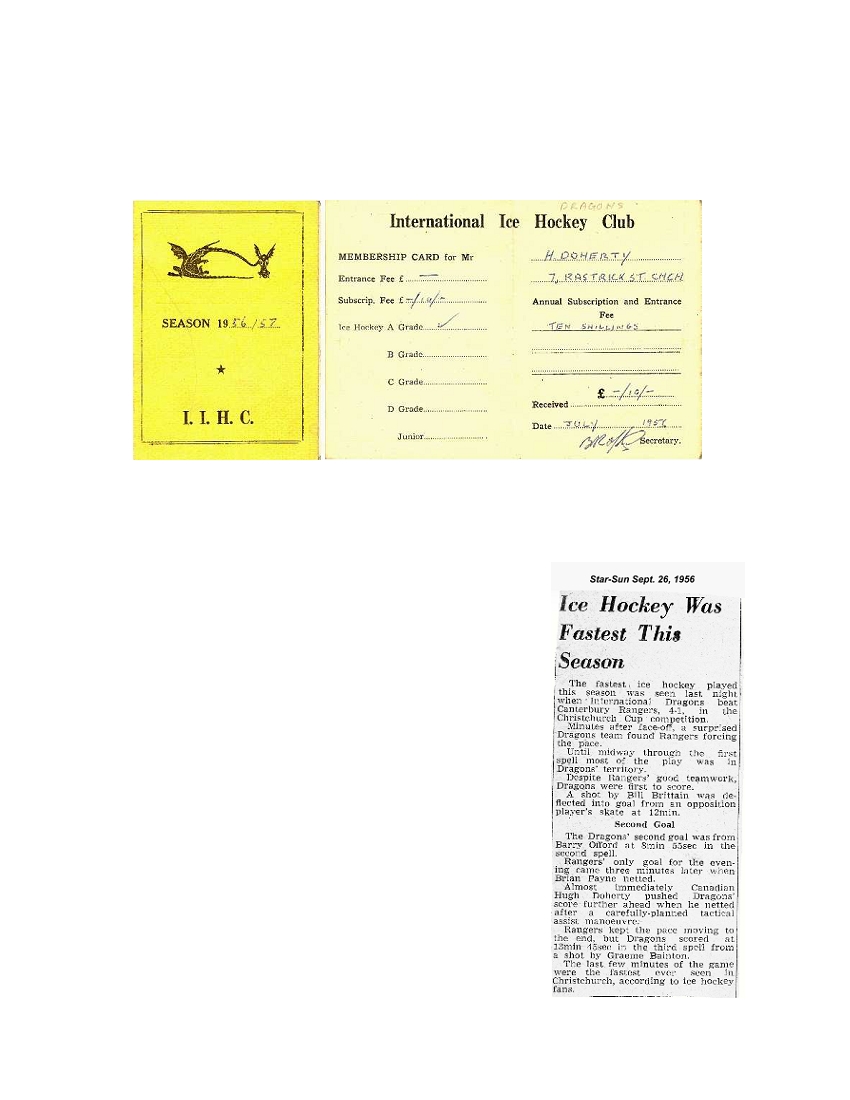 In 1956,

after I had graduated from Bishop's, I spent most of the year in New Zealand doing postgraduate study
in journalism on a Rotary Foundation Fellowship. In July of that year, I joined an ice hockey team in Christchurch,
where I was based. It was called the International Ice Hockey Club, and went by the name of the Dragons. The
membership fee was ten shillings.
Now, ice hockey in New Zealand was a something of a novelty in those days. In Christchurch, a form of the game
was played on roller skates on a hard surface, and of course, field hockey had been around a long time. But ice
hockey? To begin with, there was no outdoor ice in Christchurch because the winters (June, July, August there)
weren't cold enough, and only one arena with facilities for making artificial ice. I had brought no skates or other ice
hockey equipment with me, not expecting to meet up with my favourite sport in
this southern hemisphere country. And one couldn't find these things in the
Not to worry, said the ice hockey chums I had met. Come along to the arena for
our first practice and we'll fix you up. They were keen to enlist a Canadian who
had actually played the game back in Canada for much of his life, thinking I
would give their team a great advantage. So off I went.
First, the skates.

They were white lady's figure skates, about the only
kind to be had in Christchurch since figure skating was more popular and
well-known than ice hockey. Then, the pads. Because I had been a goalie in
high school and university, my chums figured that's the position I should play
for their team. But there was no such thing as proper pads and other equipment
for an ice hockey goaler, probably in all New Zealand. Instead, I was outfitted
with the thin pads and gloves worn by wicket keepers in cricket.
Then, onto the ice. Only it wasn't totally frozen; there was a thin sheet of water
over it. My chums explained this was done deliberately to speed up the game.
No one could skate very well, or shoot a puck very hard, and they thought
slippery water made things faster. It was certainly a a lot wetter.
Well, I sloshed around for a couple or so games as a goalie in my cricket pads,
but it became obvious to me and my chums that even in my cumbersome gear,
I could handle and shoot a puck better and skate faster than anyone else on the
team. They were, after all, used to roller skates!
So I became one of the Dragon's forwards. At first, things didn't work out too well. It was those darn figure skates -- I
kept tripping over the toe-picks as they dug into the damp ice, falling flat on my face. But somewhere, my teamates
found some standard men's tube skates that fitted me, and insisted on lending them to me. And then I became a star!
After six years in Canada "between the pipes" trying to stop pucks, I was in goalie's heaven! I whizzed wetly up and
down the rink and scored lots of goals, often in bunches. One memorable game I set some kind of league record by
potting 15 goals. At least, that's the way I remember it.
As it turned out,

that New Zealand season was the end of my active hockey career. I returned home to
Sherbrooke and tried goaling for a game or two in local pickup games but by that time, face masks had come into
vogue, and I couldn't see through the damn things, so gave it up. Then I did a spot of coaching in minor hockey but
one day, out on the ice, I slipped on a loose lace or something, and banged my head into the boards. Got a
concussion and never played hockey again.
I still loved skating, though and as our four children became old enough, floated around with them on the ice
outdoors and in various arenas across Canada. That was fun, and I often wished I could have had them with me under
the bright blue moonlight at Howardene pond.
_______________________________________________