Albert Doherty:
His family history in England and Canada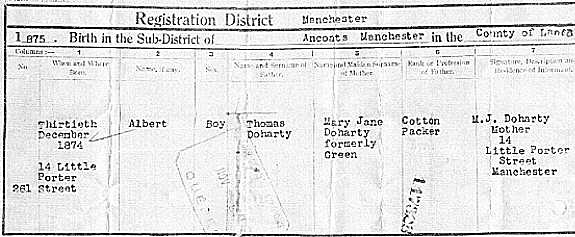 Albert was born in Manchester, England, on December 30, 1874, as this copy of a portion of his birth certificate shows. The document spells his family surname as "Doharty" but the "a" is believed to be an error. Albert's father, Thomas, was a cotton packer, one of thousands employed in the textile mills for which Manchester was famous for hundreds of years, right up to the early 20th Century. In particular, the district of Ancoats, where the Dohertys lived, was the site of many mills and the homes of their workers. The mill hands were largely immigrants from many countries, and Thomas' father and mother had both been born in Dublin, Ireland. They came to Manchester from Ireland at least ten years before the great Irish Potato famine of 1845. Thomas was born in Manchester about 1847.
Albert had a brother, John Joseph, born three years before Albert was, but he only lived for a year. Albert also had a sister, Mary, about four years younger than he was. That's Mary on the left, from a picture taken in England about 1935. Albert's mother died when he was about four years old, likely in giving birth to Mary. Albert's father married again, this time to a woman we know only as Elizabeth. She might have been a widow; she already had a daughter of her own, Martha, so Albert immediately acquired a stepmother and a stepsister. Later, he acquired a half-brother, Harry, and half-sisters, Ellen and Anne. (In 1956, I visited Harry and some of his family, living in the Droylsden area of Manchester. Their neighborhood appeared to be a very old one, with cobble-stoned streets, and tall narrow brick tenament houses packed closely together, row on row. It was a leftover from the area's industrial heyday)
Below, is a copy of the birth certificate for Albert's wife, Bertha Ellen Peers, who was called Bertha:

Bertha was born on August 21, 1874, so she was a few months older than Albert. Her father's name was John Peers and he was a carpenter. Her mother was the former Ann Erskine.



THAT'S BERTHA'S MOTHER, Ann Erskine, on the right. She was born in Kington, Herefordshire, England in 1843 and died in Openshaw, near Manchester, in 1892 at the age of 49.
At the time of Bertha's birth, her family lived in Newton in Makerfield, Warrington district, a community not far from Manchester on the way to Liverpool. When Bertha was 26 or 27, she is listed in the 1901 United Kingdom census as being employed as a cotton weaver in a textile factory. Bertha had a brother Harry, who died shortly after birth, and six sisters.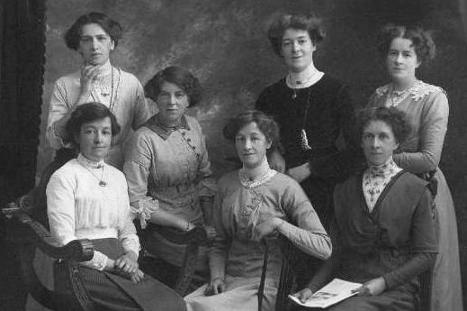 THE PEERS SISTERS: Here are the seven Peers sisters in a photo probably taken about 1900. Back row: Sallie (Sarah), Mollie (Mary), Fannie (Fay) and Martha. Seated, front row: Annie (Anne), Bertha and Alice.
Albert and Bertha were married in 1904, in Chorlton, a district of Manchester. At some point not long after that, they immigrated to Canada, probably to Montreal. Their eldest son and my father, John KENNETH Peers Doherty, was born in Montreal in 1906. A second son, Thomas HUGH, was born two years later. There was also a third son born in 1919, Albert Seymour, who died from diphtheria seven months later. Bertha died in 1926 from breast cancer. She was in her 52nd year.
A reunion of the Doherty-Peers families in England?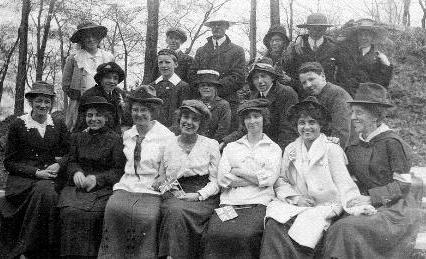 THERE IS NO IDENTIFICATION with this picture, which was left by Albert's younger son Hugh. But there is no mistaking Albert, back row standing, third from left, in the big white hat. Standing directly below him, in the middle row wearing a dark floppy hat with a white band around the top is Hugh, about five years old or so. Left of him is my father, Kenneth, about seven, wearing a small cap and jacket with a wide, white collar. That's Albert's wife, Bertha, extreme left, seated in the front row. With her in the same row appear to be her sisters; from the left, Mollie, Fannie, Martha, Sallie, Annie and Alice. The picture was likely taken in England in 1913, when Albert and his family visited from Canada. It is possible that Albert's half-brother Harry and other Doherty's are also there, so perhaps this was a Doherty-Peers family reunion.
~ Some group portraits of the Doherty family ~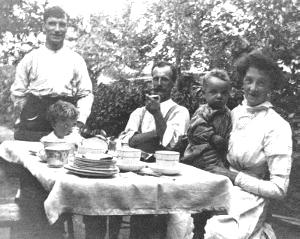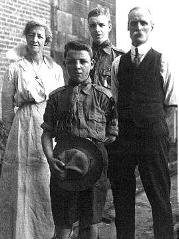 THE PICTURE ON THE LEFT was taken about 1909, and shows Albert, seated in the middle, age about 35, with Bertha on the right, also about 35, and youngest son, Thomas HUGH on her lap. He would have been about a year old. The identity of the man on the left is not recorded, but it could be Albert's half-brother, Harry. The small boy in front of him, peeping above the table edge is likely my father, John KENNETH Peers, who would have been about three years old. The picture on the right was taken about 1922. There are Bertha and Albert (right) with their sons Hugh (front) and Kenneth in their Boy Scout uniforms. Albert was very active in the Scout movement, and both boys had distinguished Scouting careers.
The family lived in an east-end area of Montreal called Hochelega. This was a very prosperous part of the city in the early and mid-1900s, and many large factories were located there. In 1906, when my father was born, Albert worked for the D.C. Mills, perhaps a textile mill. Sometime later, he went to work for the Canadian Pacific Railway in their Angus Shops, also in east-end Montreal. Steam locomotives and rail cars were manufactured there, and Albert told me he designed trains.
The marching band of the Canadian Vickers Scout troop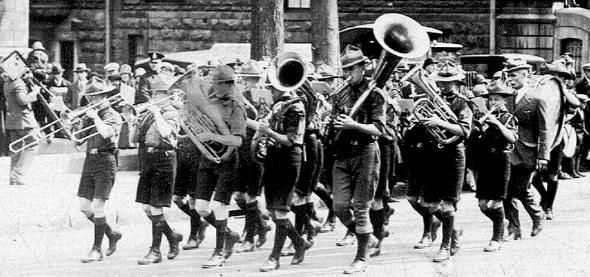 BOTH OF ALBERT'S BOYS were members of the 53rd Vickers Scout Troop. This was a large group sponsored by Hochelaga's Canadian Vickers company, the most important naval shipbuilding yard in Canada then. Albert was the conductor of the troop's brass band. Above is the band on the move in Montreal during Boys' Week in the Loyalty Day parade. It was May 16, 1926. Albert is marching along near the rear, (out of step!) in suit and fedora.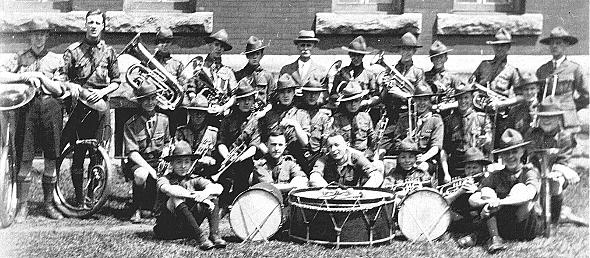 A GROUP PHOTO, above, of the band in 1928 with Albert (in the fedora) standing at the back in the middle. My father, Kenneth, is the big tuba player, standing, second from the left. His brother, Hugh, is seated in the middle row, sixth from the left, with the trumpet. BELOW, the band in Trois Rivieres, Que., the same year. Albert is standing on the curb watching, under the DAD sign drawn by my father. The letters JKD, also drawn by my father, show where he is with his tuba, unrecognizable because of fogging on the original negative.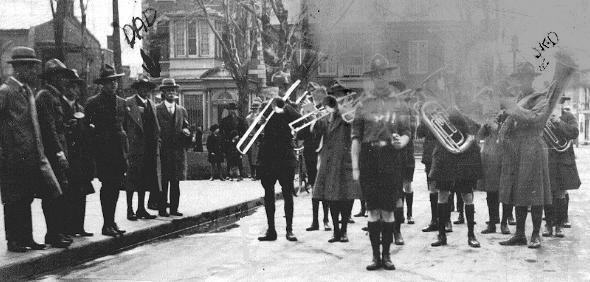 The family church was St. Mary's, which was Anglican. My father once told me Albert was an organist there, and my sister Catherine remembers my father telling her he used to pump the organ for Albert when he played. Albert's other son, Hugh, played the piano, and my cousin Bryan Doherty (Hugh's son), says Albert taught his father to play the piano by ear. The two boys went to school at Baron Byng High School.
At one point, in 1913 and perhaps earlier, the family lived at 366 Darling Street. Later, by at least 1926, the Dohertys lived at 3626 Desery Street, in the same general neighborhood. Both streets were within walking distance of the CPR's Angus Shops, where Albert worked.


DESERY STREET HOME: This is the Desery Street building as it looked in the spring of 2002. Number 3626 is the top flat and, in all likelihood, is where the Doherty family lived in 1926 and perhaps before. The block was built in 1915. (Photo by Bryan Doherty)
Sometime after Bertha died in 1926, Albert was married again, to a woman named Louise West. Albert called her "Loo." Apparently, she wasn't popular with some other members of the family.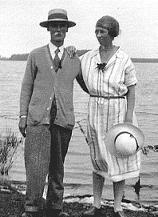 THE WOMAN KNOWN AS LOO: Above on the left, Albert and Loo (Louise West) at Black's River. Right, Albert, kneeling, with Loo standing behind him at a beach party in Prince Edward Island. The other women aren't identified. The pictures are not dated, but must have been taken sometime in the late 1920's, or early 1930's. BELOW, two other pictures taken about the same time. On the left is Albert in a smart-looking suit; on the right, Loo "at the garden gate," according to a note on the back of the picture in Albert's handwriting.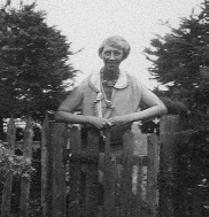 My mother remembered Loo being characterized as "not a very nice woman." My cousin, Bryan, remembers being told his father did not like her at all, and when his father was a day student at McGill University in Montreal, "hated going home, so practically lived in the library." Bryan also remembers being told Loo "just wandered away after a few years." My mother said she died sometime after that. Almost certainly, she pre-deceased Albert; cemetery records show Albert was a "widower" of Louise as well as Bertha.
I don't know exactly when Albert started living with our family, but it must have been in the late 1930's. He stayed with us until the early 1950's, then in his late 70's, went to live in a nursing home in Sherbrooke, Que., where we lived. Later, he went to the Wales nursing home in nearby Richmond, Que. Albert died there in 1956 at the age of 81. He is buried in the Doherty family plot at Hawthorne-Dale cemetery in east-end Montreal, part of the Mount Royal cemetery group.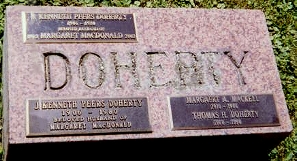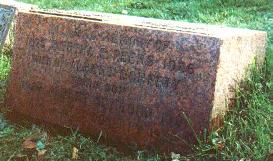 THE PLAQUES on top of the Doherty family memorial, left, are for Albert's oldest son, Kenneth (my father), his wife, Margaret MacDonald (my mother), a younger son, Hugh, and Hugh's wife, Margaret MacKell. The inscriptions on the front of the memorial, right, are for Bertha, an infant son Albert Seymour, and Albert himself. (Photo left, by Mount Royal Cemetery; right, by Bryan Doherty)
BACK to Albert's home page
WITH THANKS TO: my sister Catherine Doherty of Kelowna, B.C., who did all the family research on Albert and Bertha, shared it with me, and gave me the birth certificate copies and some family photos; my mother, the late Margaret Doherty of Almonte, Ont. for family pictures and her reminiscences; my cousin, Bryan Doherty, of Nanaimo, B.C. for his recollections and copies of his family pictures, especially the ones of Albert and Louise. THANKS ALSO to Margaret Walker of Bolton, England, a grand-daughter of Bertha's sister Martha, who came across these web pages in November 2004. She sent me the picture of the seven Peers sisters and Ann Erskine, and is the source of a wealth of new information about the Peers family. AND MORE THANKS TO Catherine Wolff of Worthing, England, who took time from her own family genealogy research to find and send me a great deal of new information about Albert's parents, grandparents and their families.
Comments? Click HERE to e-mail.
---
Last updated Mar. 27, 2011